As we continue our string of international bathroom reviews for what I am now dubbing #CzechPoopWeek, I figured I might as well review the first bathroom I used ever in the Czech Republic.
And boy, is it a good one.
The Four Seasons Hotel in Prague is a five-star luxury hotel in the heart of the city's famous Old Town area. It's minutes away from the incredible Charles Bridge or the astounding astronomical clock, Orloj, which features animatronic demonstrations at the top of every hour to a packed crowd of thousands 24 hours a day, every day.
Staying there is definitely not for those of the faint of wallet. It will set you back, but it also offers a high-end, upper-class experience.
As someone who normally looks to stay at your Holiday Inns or, hell, who has even slummed it in a Motel 6, it was a jarring, if not enjoyable, experience. I'm not used to being pampered, so I don't know how to respond when I am.
For example – as I walk in with a backpack and a carryon bag, sweating from the heat and exhausted after a 16 hour series of flights and trains to get to the hotel, a tall, intimidatingly attractive attendant rushes up to me as I enter the front entrance.
In perfect English (he immediately could tell I was American) he says, "Good afternoon, sir. What room number are you staying at? I will take your bags up there at once" before taking my things and vanishing like some sort of beautiful Central European ghost.
To the gilded class, this is the norm, nay, the demand. For me, I had a moment where I thought…is this an elaborate ruse to steal my luggage?
(We came to found out that they were very adamant that we not deign to denigrate ourselves to, gasp, carry our own luggage, as they called us the moment we were ready to check out to ask if the bellhop could come and assist us).
For background, if this seems like a hotel for a special occasion, it was. I was in town as the Best Man of my college roommate's wedding, and before going to the wedding venue in Kroměříž (which I've talked about a few times already) we spent a day together in Prague.
And the Four Seasons was our hotel.
It did not disappoint.
The room was spacious and beautiful. The service was impeccable (the house cleaning staff would actually use a Velcro strip to tie together our phone charging chords to make sure they didn't get tangled.
There was a silk square placed on either side of the beds, so that no matter what side we woke up on, we'd not have to deign ourselves to starting our day by stepping on mere high-end carpeting.
When we went into town to celebrate my friend's upcoming nuptials, the staff would get on the phone and call for not just a cab, but the BEST cab for us.
But enough about the fantastic amenities. How was the bathroom?
As you obviously have assumed, the bathroom came with a similar level of luxury.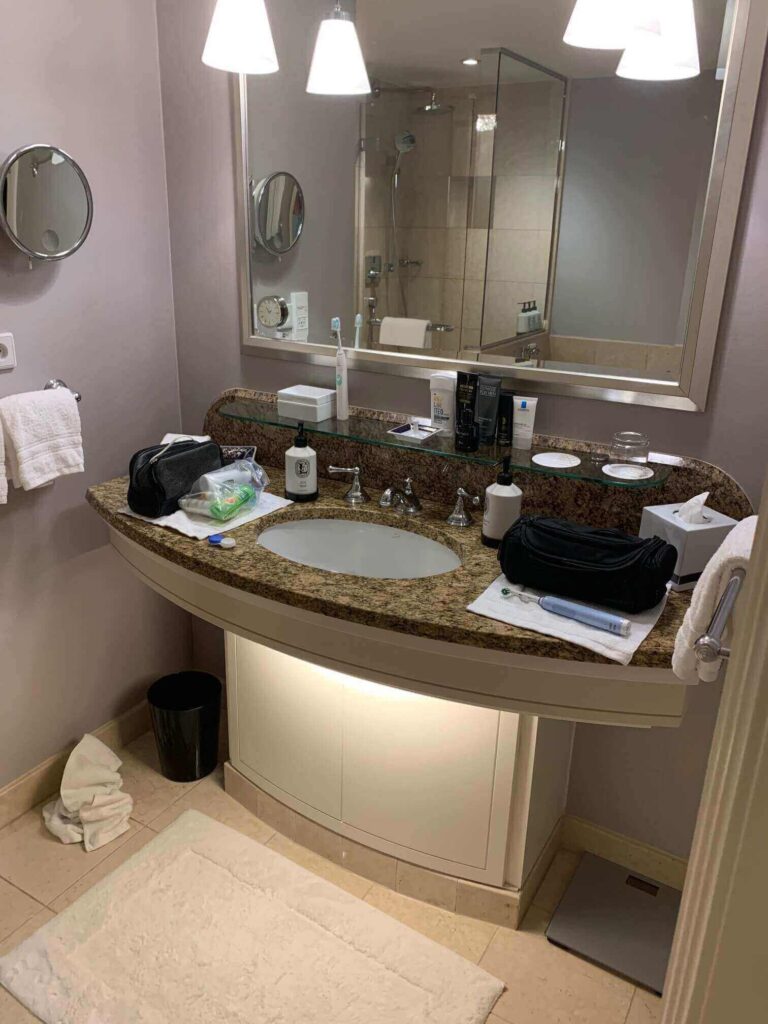 The toilet has it's own little room, separate from the shower, not uncommon in hotels or in Europe, it seems. The sink is spacious, with a marble top. Next to the shower and the bathtub, two robes hang along with a convenient towel.
The robes are heavy and comfortable, like a weighted blanket that soaks up water. The shower itself is actually interesting – instead of having to twist a nob or pull a handle, there is a button for "water on" or "water off" with two different showerhead options.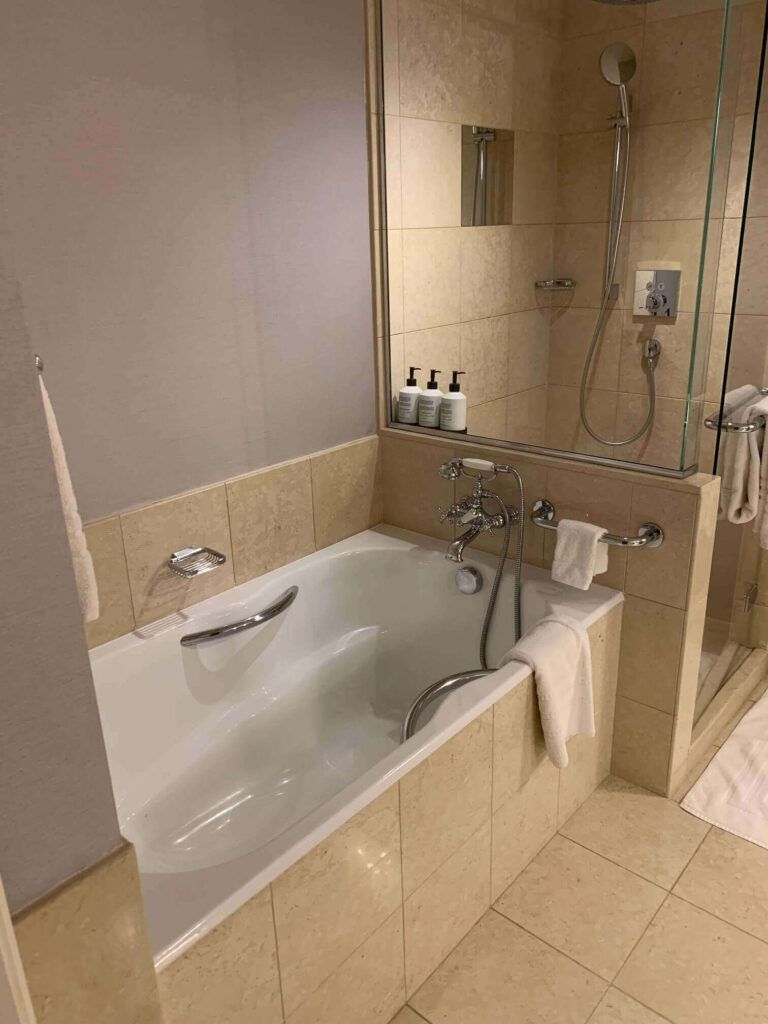 As you can see, there also is a very ornate and complex system in place for the bath. No matter how you want to get clean (possibly after a rough bathroom run) you know you'll be more than covered by the Four Seasons.
Is The Four Seasons in Prague Poopable?
If you can afford it, there are fewer places that are more Poopable than the Four Seasons. From the attentive housekeeping to the spotless bathroom, it's hard to go from here to having to try to use a bathroom on a train.