After encountering a terrifying train bathroom on a three hour journey in the Czech Republic, I arrived in Kroměříž, a small town of 28,000 people in the eastern part of the country.
After settling in at Hotel a restaurant Octárna, where I was staying for four nights to attend a traditional Czech wedding, I wandered the city to find some dinner. I ended up at Restaurace Pod Starou Knihovnou, a family-style below-ground restaurant with outdoor seating at ground level that serves traditional Czech cuisine.
This is the real deal. Previously, I had spent the night at Prague, in the Old Town, where tourists are abundant and every menu has English translations, and and every other restaurant is Korean, German, American, or something else that is definitely not Czech.
Here, all the customers were clearly locals. The menu was a flimsy lamination with pictures on the back to tell you what the Czech word is for is for various allergens so any English speaker doesn't accidentally order the wrong thing.
The waiters knew only a handful of English words, and all the menu items were classically Czech, like Svíčková na smetaně (marinated sirloin), Vepřo knedlo zelo (roasted pork), and Řízek (schnitzel).
It is all very good, and very filling, which means…it requires a bathroom.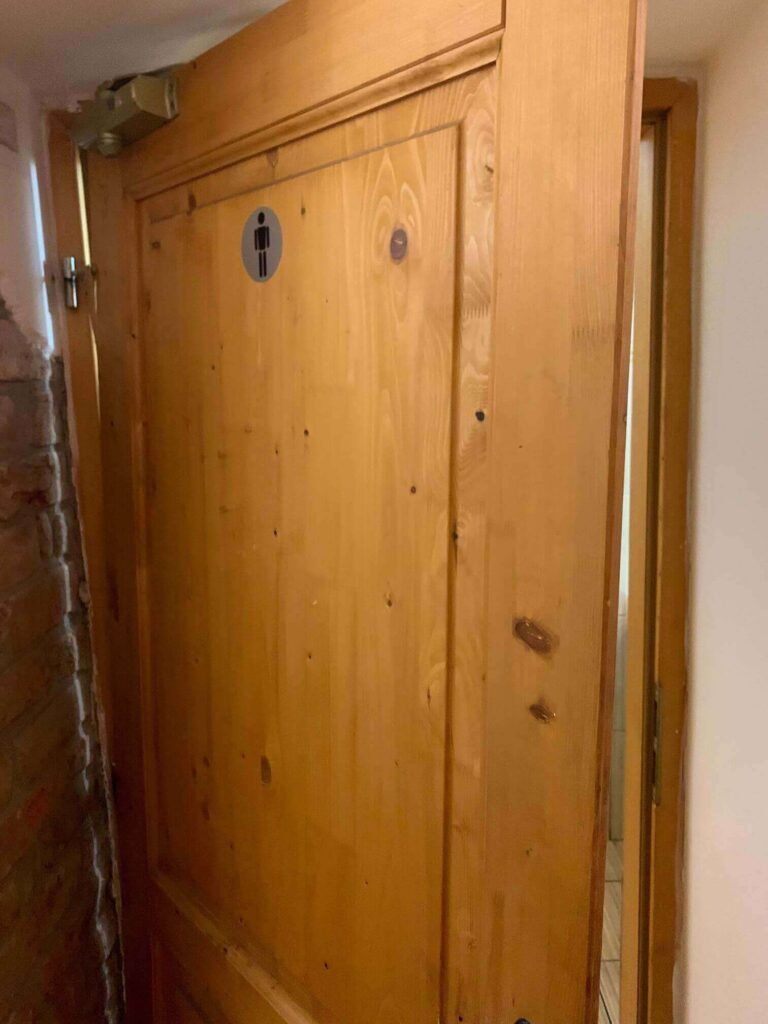 I don't speak any Czech but I'm pretty sure the sign directly next to the men's room is some sort of award or certificate of quality that the restaurant earned in 2017.
Here I should point out that the restaurant requires you walking down a small flight of steps to get into the main dining hall, which is rustic and has a sort of medieval vibe to it, like a great hall in a castle, shrunk down to fit about 50 patrons.
The simple wooden door that greets you to the bathroom fits the setting.
When you enter, you're greeted by a basin sink and a large mirror next to a paper towel dispenser and a handy wastepaper bin. The room is nicely lit, with some attractive paneling that includes some flourishes of creativity.
Past the sink is another wooden door, one that reminded me of Alma, a restaurant in Prague that I attended the soft opening of. That cocktail-forward restaurant had a room for its urinals, followed by another door which you had to go through to find the toilet.
This restaurant has the same set up. It feels like having to go through three doors instead of two could have consequences if someone is in a desperate rush, but it's more a curiosity than anything negative.
While two urinals are pictured, there are actually three here. Again, it's a well lit room with some creative wall paneling and a clean wood-tiled floor. The urinals themselves are sleek and designed to minimize splatter.
You might notice I'm focusing on the lighting of the bathroom a fair amount here. There's a reason for that. When you go through the final door to the actual toilet…
You find a throne of darkness.
Now before we get to the elephant in the room, we should point out there are some interesting amenities here. I dig the clean circular toilet paper dispenser (though it is…pretty far from the toilet, truth be told. I guess it's made for people who stand when they wipe).
It also has the handy low-flow and high-flow separate flush options to save water. It's a pretty common feature here, but the overlapping circles make this approach much more visually appealing than many others I've encountered in the city.
Now, to the darkness.
To be fair, I was in a rush to take these photos as we had passed last call and the restaurant was closing at the time. So I didn't check to see if there was a hidden overhead light that maybe had been turned off for the night.
But considering the rest of the bathroom was still well lit, I suspect that anyone who has to take care of business here might have to do so in total darkness. I shudder to think of how one would handle wiping or even finding the toilet paper without the help of a cell phone flashlight.
Is Restaurace Pod Starou Knihovnou Poopable?
If the lack of light was just due to the restaurant closing down for the night, it is Poopable enough. It's a very private toilet – essentially a closet with a toilet and a full-sized door.
But if what we saw is the permanent state of the toilet, it is definitely NOT Poopable. I'm claustrophobic just thinking about going in there with urgency only to close the door and be faced by a poop in darkness.
While it is a clean and efficient bathroom, Restaurace Pod Starou Knihovnou is definitely Peeable…but in the state I saw it, it is definitely not Poopable.
Want to see how other bathrooms stack up to Restaurace Pod Starou Knihovnou? Check out our Reviews section, with an international selection of bathrooms to read about.