We continue #CzechPoopWeek as our Jammin' With Jeff columnist, Jeff G., goes to a beer hall with rich history…and a spacious bathroom.
U Fleků, founded in 1499 (yes, over 500 years ago), claims to be the oldest brewery in all of Prague in the Czech Republic. It's hard to imagine that an older one exists.
They serve standard Czech food and both a light and dark beer of their own making, as well as shots of mead and various traditional styles of brandy.
It's a classic beer hall, with long, shared tables and aggressive waiters who ensure you are never not drinking.
So after leaving the Four Seasons with my friend for his low-key bachelor party, we headed down to New Town to enjoy a snack and some libations.
There were two indoor beer halls, and a large outdoor courtyard space which had an accordion player serenating us with traditional Czech folk songs.
The moment we sat down, two half-liters of beer were plopped in front of us along with a piece of paper where the waiter drew two check marks.
This would be our running tally to coordinate our final bill.
Czech beer is poured differently than it is in the United States, so that half liter is not as daunting as you might assume. They pour their beer directly down the center of the glass, giving you a huge, rapidly dissipating foam head that takes up almost half of the space of the glass, leaving you with roughly a liter of 4.5-5% alcohol lagers.
Immediately after, another waiter appeared with a tray of clear and honey-colored shots. Another two check marks on our "bill" and we were ready to look at the menu.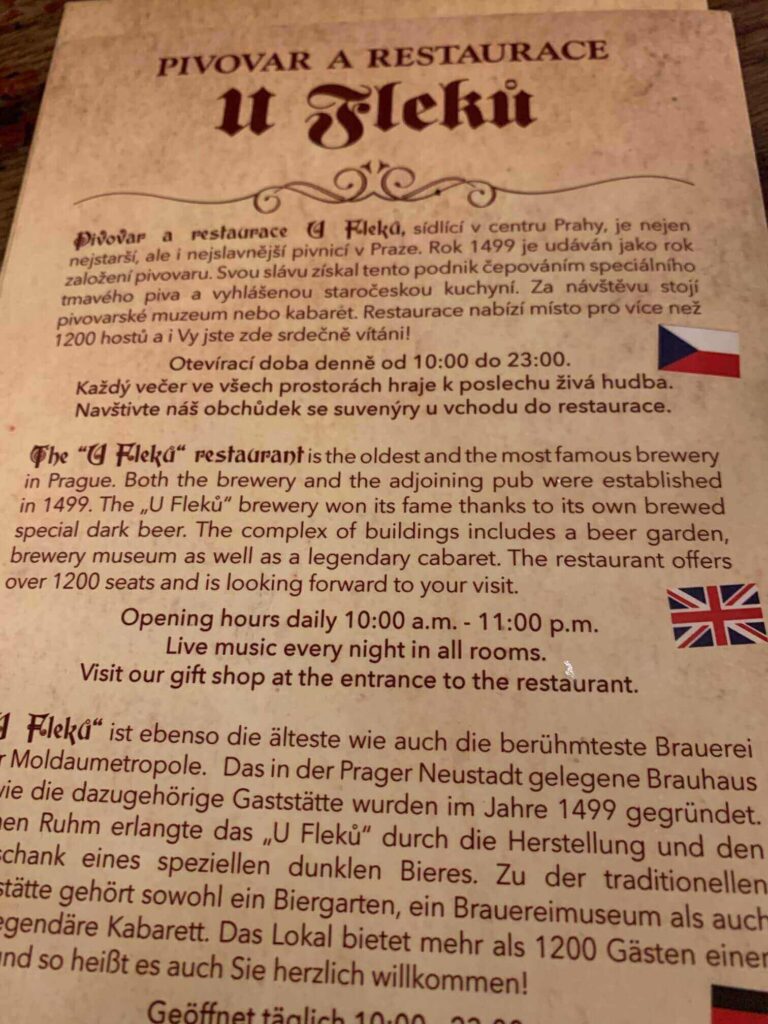 We ended up ordering Topinka, a classic Czech dish of toasted stale rye bread, buttered and salted, with raw cloves of garlic you rub onto the pieces of toast.
Of course, after downing garlicy toast and a handful of beers we didn't actively ask for…
You're going to need to find a bathroom.
For the outside beer garden bathroom, an attendant that does not speak English politely sits outside both the men's and women's rooms, which are differentiated by a metal inlay of a little boy standing while peeing, and a little girl sitting on a chamber pot.
Definitely a unique bathroom sign.
When you come in, you encounter two sinks with a red marble-like basin (unfortunately my photo came out blurry) as well as a few toilet stalls behind full-sized doors.
There also are two random doors that are locked, including one with "PERSONAL" scribbled on it and slanted in a way that it feels like it's trying to emulate Ted Lasso.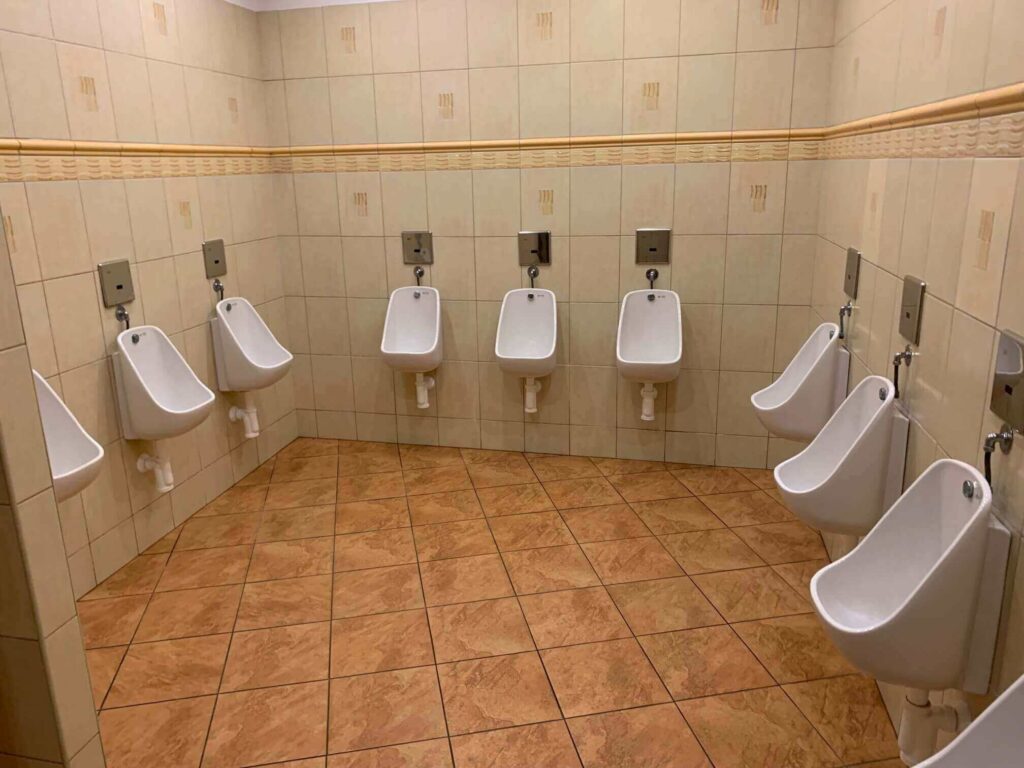 Next to the sink is a air dryer with…an interesting illustration on it, next to a paper towel dispenser. Past the sink and the bathroom stalls, you encounter a room filled with around a dozen urinals. The brand appears to be from a company based in the Czech Republic.
Given how many beers are flowing here, this does not seem to be an excessive amount of urinals.
While I was curious as to what was behind the locked "private" doors, I left the bathroom with an empty bladder and an appreciation of the clean space, and was frankly surprised I was the only one using the facilities at the time.
Considering that this bar has been bringing in large crowds for over 500 years with the promise of beer and live entertainment, it's impressive that the bathroom is relatively spotless.
Is U Fleků Poopable?
With a focus more on beverages than food, U Fleků knows that they are better off focusing on urinals to make sure beer can go in and out seamlessly. But with clean, private stalls with floor-to-ceiling doors, if the combination of beer and shots causes your belly to rumble, you'll find a clean and quiet place for a poo.
U Fleků is very Poopable, and a lively Czech experience for all who dine there.