As we wind down #CzechPoopWeek, you get to see what a public bathroom in a Czech castle looks like.
(I tried to review the actual bathroom used in the castle centuries ago, but unfortunately it's in the process of being restored, so we'll just go to the one meant for present day visitors.)
The Arcibiskupsky Zamek is best known by the more straightforward title of the Kroměříž Castle. If you've not been following the Czech Republic bathroom reviews we've been posting all week, I've been implanted in Central Europe this past week for a wedding…which actually was held at this castle.
Now, attending a wedding at a Central European castle is definitely a wonderful and unique experience. But it also provides access to a castle bathroom, which is what you, a Poopable reader, wants to know about.
First, some history. The Kroměříž Castle is a UNESCO World Heritage Site known for its well-preserved residences and it's lush, beautiful gardens (one of the most prominent of the gardens was where the wedding ceremony was held).
(And if the bride and groom are reading this, don't worry, I wouldn't dare post any pictures of your nuptials on Poopable.)
Historically, the castle served as the primary residence for the archbishop of Kroměříž, initially established by bishop Stanislav I Thurzo in 1500. It was sacked by the Swedish army in 1643.
In 1664, architect Filiberto Lucchese was charged with renovating the castle in the Baroque style that was popular at the time, which is known for its theatrical and highly decorative approach. This style appears inside the residence, which is filled lush chandeliers, rooms covered in paintings, and a hunting room covered with taxidermized heads.
The Baroque style also is most noticeable in the beautiful gardens, also originally designed by Lucchese in the 17th century, that remain ornate and well-maintained to the day.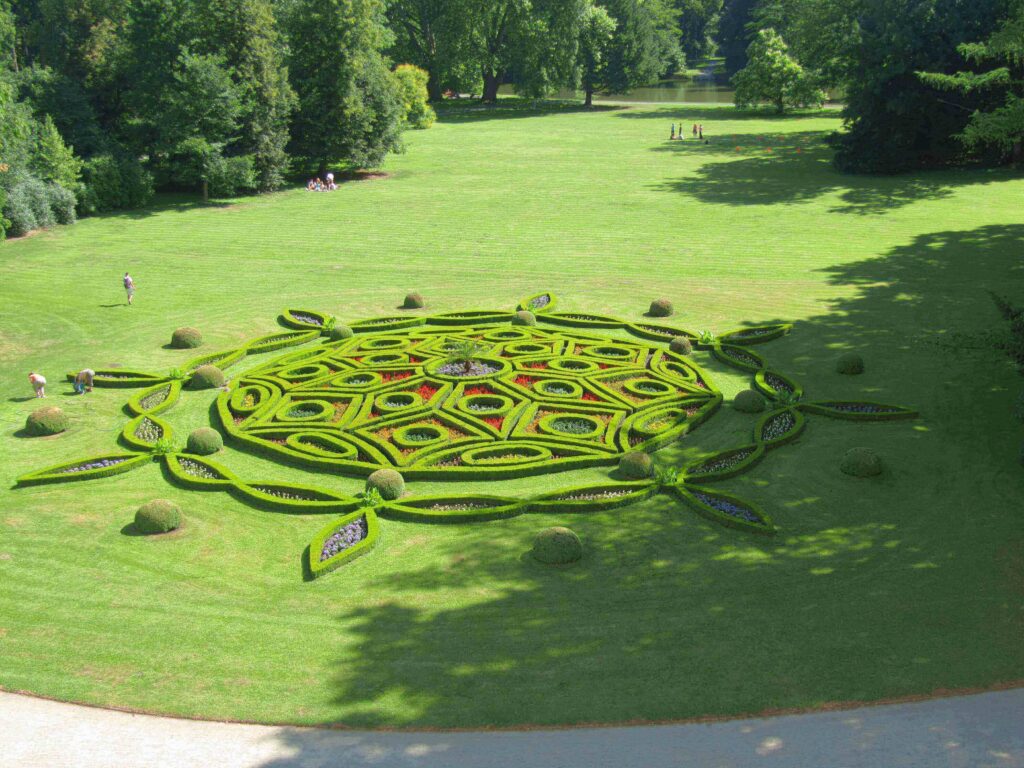 The garden is part of a larger garden area filled with pools, streams, and dozens of wandering peacocks. It's a truly spectacular pocket of beauty in a quaint corner of Central Europe.
But enough about the castle. How are the bathrooms?
From the main courtyard of the castle, a standard public bathroom is free for all to use. For a public restroom, it's remarkably clean, with two simple basin sinks and a conservatively tiled wall to go with standard floor tiling.
The bathroom has two toilets and four urinals, which is more than enough to address the needs of the occasional wandering tourist.
This is where I should point out one of the key differences between European bathrooms and American ones.
While many of our more traveled readers might already know this, if you haven't had a Poopable moment in a European country, you might have noticed a trend in my #CzechPoopWeek posts. Namely that instead of stalls, each toilet generally is fully enclosed with a floor-to-ceiling doors.
Essentially, instead of stalls, these toilets get their own little room. Talk about a private setting!
You might wonder why America doesn't do the same. I know I do. So I did some research. While the public nature of the stall gap might make some shy poopers uncomfortable, there are some benefits that the American approach has.
First of all, a lot of European bathrooms make it hard to figure out if the stall is in use or not. This bathroom for example, doesn't have a particularly noticeable "occupied" indicator like you'd find on an airplane bathroom or an outhouse.
Even ones that do tend to be very subtle, so the chance of someone awkwardly trying to enter while you take care of your business is a lot more likely compared to an American-style stall.
Additionally, the gaps allow others to see if you have passed out or had a medical emergency while on the throne, and the spaces deter bathroom users from partaking in elicit activities.
That being said, I do appreciate the spacious, private toilet here, especially given that it's one of the rare free public bathrooms in town, meaning it's likely you'll have company when you need to take care of business.
Is the Archbishop's Chateau in Kroměříž Poopable?
If you want to tour a beautiful château, wander the gardens, and partake in a light snack at one of the several cafes on the property, rest assured that you can do so knowing your bathroom needs will be taken care of.
The Kroměříž Castle IS indeed Poopable.