In a #CzechPoopWeek exclusive, we tried the bathroom of Alma, a soon-to-open cocktail-forward restaurant
While staying in Prague, I got to experience a lot of Poopable locations. From the Four Seasons to the city's oldest brewery and residence, I experienced a whole range of Poopable experiences.
But easily one of the most unique was the opportunity to be one of the very first people to use a bathroom at a restaurant focused on global cocktails that hasn't officially opened yet.
Alma is a large, open space, with an expansive, open air kitchen where patrons can see the staff doing their best impression of an episode of The Bear (yes chef!).
They offer an elevated menu, and high-end cocktails that are very intentionally crafted to give the impression of a journey across the world.
Pisco from Peru, whisky from Scotland, vermouth from France, the drinks were both complex and delicious, and well worth the price (it helped that, since it was still just a soft open, they took 20% off of our bill).
But classy drinks and classy treats require classy toilet seats.
While I imagine that there will be further upgrades to the bathroom when they finally open, I was pretty impressed with what I saw. Well, except for maybe the sign on the bathroom door.
Alma's bathroom is separated into three different rooms, each with their own door, much like my experience at a Kroměříž restaurant. The first room has two sinks with intriguing modern designs.
They offer soap and various lotions to help make sure you feel fully clean after using the facilities.
While there are paper towels, they also have rolled up cloth towels for a classy way to dry your hands, with a wicker basket to place them when you're finished.
This sort of makes the paper towel dispenser unnecessary, but it's always nice to have options when you are done with your bathroom duties.
Once you go through the next door, you'll find the urinal room, with a few urinals next to the final door, where the toilet resides. All are clean, efficient, and lie underneath a stylized-ceiling with a rustic, open-pipes vibe.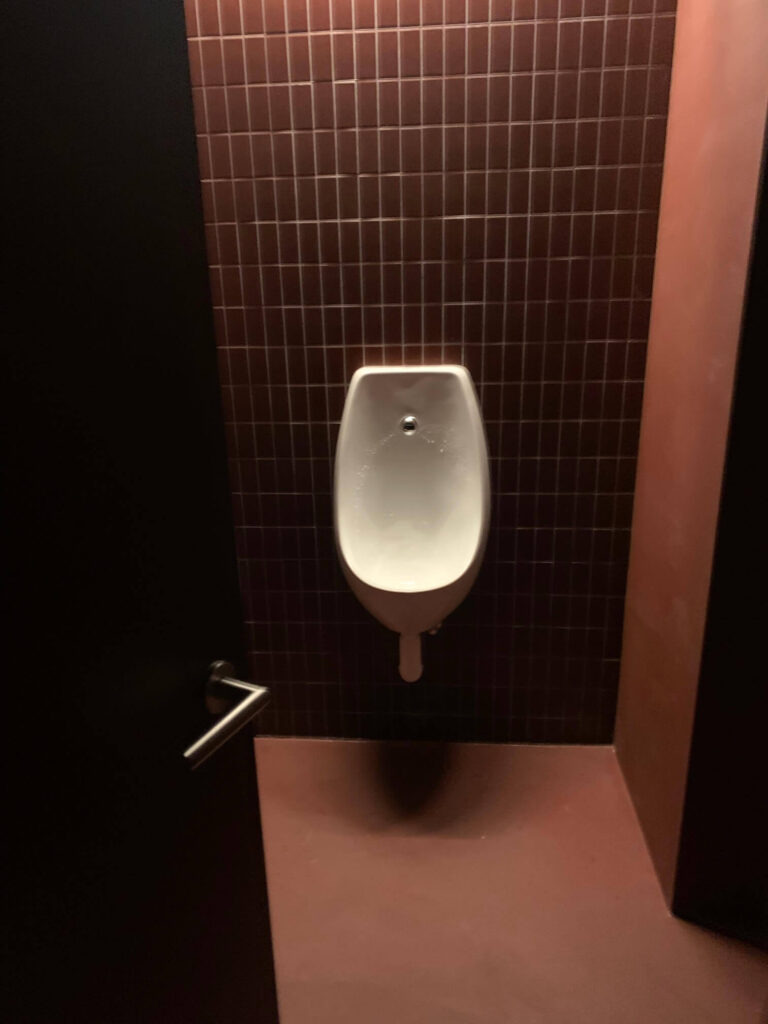 I especially appreciated the stack of toilet paper rolls in case of emergency, and the essential oil infuser…also in case of emergency.
Is Alma Poopable?
I know that the bathroom, and the restaurant, is a work in progress, but even during their soft open, Alma is absolutely Poopable.
It is a little jarring to have to go through multiple doors to reach the toilet (as we know, a lot of bad things can happen during that final scramble to the throne) but the toilet is private and comfortable.
We at Poopable can't wait to see Alma officially open, and we can assure its future patrons that if they feel a rumble in their belly during a lovely dinner or a fancy cocktail, they can rest assured that they will be taken care of.