We close out #CzechPoopWeek with Jeff's final bathroom before leaving the country.
It's the end of the road for #CzechPoopWeek. And it's been a long and winding road.
After spending a week in the Czech Republic, I've visited bathrooms in the oldest brewery in Prague, as well as the city's oldest residence. I've taken hard dumps at soft opens and enjoyed luxurious five-star thrones.
I've been terrified by train bathrooms, or dark dumps, and I've experienced pyramids of TP and castle toilets.
And of course I had a lot of fun along the way.
But all good things must come to an end, so as I embarked on my journey back to the States, I knew I had quite a journey ahead of me.
All-in-all, I spent about 22 hours commuting to get home from Kroměříž. After being driven to the train station, I had a three hour ride, followed by a 30 minute shuttle, and still had two flights ahead of me.
So when I got to Václav Havel Airport Prague and got through security, I made my way to my gate with plenty of time to spare.
Since I knew I had several long flights ahead of me, I figured I should do what I could to minimize the amount of times I'd have to use the facilities on an airplane. I ducked into the Terminal D bathroom and was pleasantly surprised to see it completely empty.
All for Jeff.
I don't know about you, but outside of being in an airport at 5AM, I've never encountered a large airport bathroom that was completely empty during normal hours. But here I was, at 1PM, a veritable kid in a candy store (or at least a veritable adult with his choice of urinals to use).
I can swear I heard an angelic choir when I walked in. Not only was the bathroom spotless, it was immaculate. I've never seen a nicer airport bathroom.
As soon as you walk in, you notice two long rows of spotlessly clean sinks. Directly to your left, the wall has a Dyson hand dryer along with a baby changing station. The end of the entrance way has an automatic hand sanitizer, along with another Dyson dryer.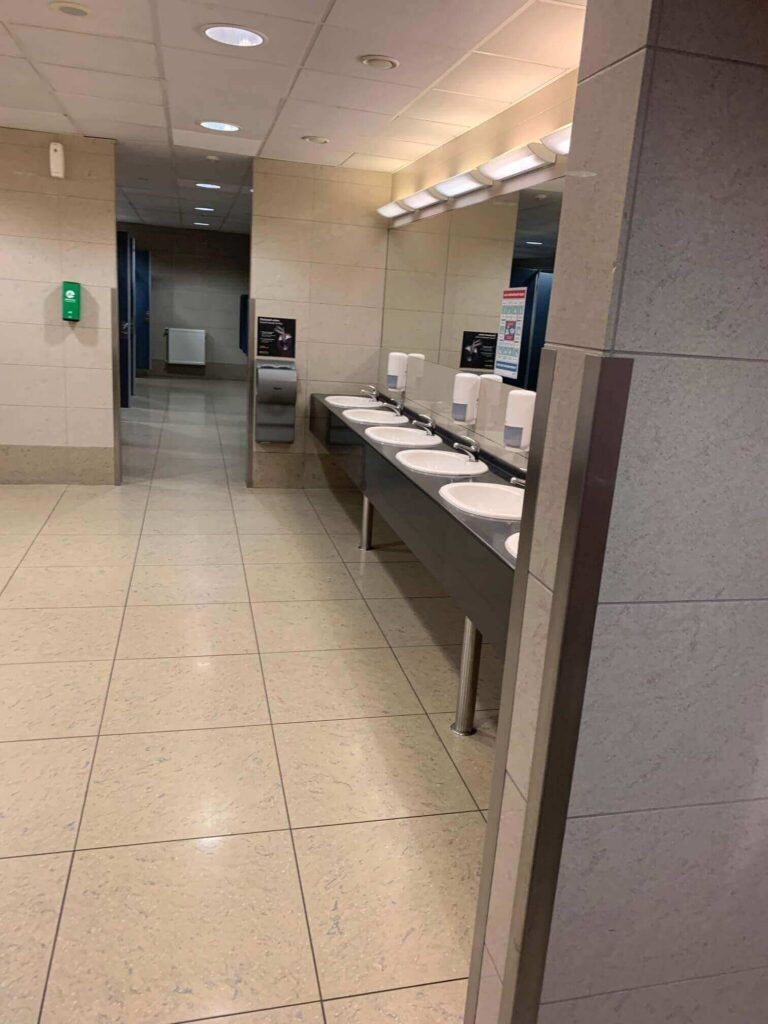 The urinals and the stalls are both somewhat unusual for airports and European bathrooms alike. I've never before seen dividers installed between urinals in an airport, but it is a Godsend for anyone shy about peeing next to strangers.
Similarly, while the stalls go all the way to the ceiling, they actually have a gap at the very bottom, unlike most of the floor-to-ceiling stalls I encountered on my trip
My flight ended up being delayed by half an hour, and my connecting flight sat idly on the taxi for over an hour. When I finally got back to Chicago, between shuttling to the main terminals, taking a subway and transferring to a bus before walking my luggage a half mile, I would spend the next 15 hours making my way home.
But I at least got to have a moment of isolated bathroom bliss – not something you'd normally associate with airports.
Is Václav Havel Airport Prague Terminal D Poopable?
It is incredibly Poopable. Despite all that I've written about the bathroom, I'm still at a loss for words at how accessible and pristine this was, despite handling the duties of thousands of people every day.
Kudos to the janitorial staff for a job well done!
And if you have any positive airport bathroom experiences (or horror stories) don't hesitate reaching out so we can share your tales of glory or woe!